Oldies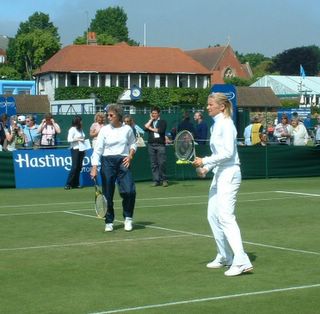 Virginia Wade and Jana Novotna.
They held a legends entertainment event with Martina Hingis, Jana Novotna, Peter Fleming and Andrew Castle, and Virginia Wade commentating.
They also held a guest event with
Gus O'Donnell
and (I think) Mike King whoever he is. The photo shows Wade and Novotna practising in the morning. Quite distinctive in these days of heavy topspin on both sides was the sheer effortless efficiency and beauty of Novotna's backhand slice.